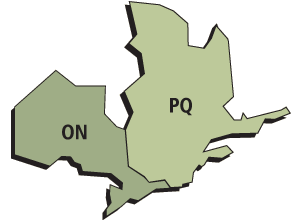 Both of the Canada East ISC II qualifiers kick off this weekend with games in Palmerston/Harriston June 20-22 and McNab-Braeside June 21-22.
Watch for scores to be posted here throughout the weekend.
Three teams from the Palmerston/Harriston tournament will qualify for the 2008 ISC II Tournament of Champions being held in Appleton, Wisconsin.
Opening round games are as follows:
Friday June 20
7 pm Game 2 Wyevale Tribe vs Mitchell Mets – Palmerston 1
7 pm Game 3 Bridgeport Braves vs Shakespeare Falcons – Harriston
8 pm Game 4 Alvinston Indians vs Rockwood Rush – Palmerston 2
9 pm Game 1 Harriston Mercury's vs Innerkip Eagles – Harriston
9 pm Game 5 Glencoe Astros vs Ohsweken Redmen – Palmerston 1
Saturday June 21
9 am Game 8 Port Elgin Blue Devils vs winner Game 4 – Palmerston 1
9 am Game 7 winner Game 2 vs winner Game 3 – Harriston
11 am Game 6 Elmira Cubs vs winner Game 1 – Harriston
11 am Game 9 Elora Brewers vs winner Game 5 – Palmerston 1

View Larger Map
With the winner receiving a berth to Appleton, opening round games in McNab-Braeside are as follows:
Saturday June 21
9 am Game 1 Waterdown Hammer vs Fitzroy/McNab D2
9 am Game 2 North York Knights vs Fitzroy Harbour West Carleton Electric D1
11 am Game 3 Carp I4C Victory vs Blackburn Bombers D1
11 am Game 4 Donnacona Blue Sox vs Quyon Flyers D2

View Larger Map
Games at both locations continue every 2 hours on Saturday and start again at 9 am on Sunday. The championship game in both tournaments is scheduled for 3 pm Sunday with the "if necessary" game to follow immediately after.